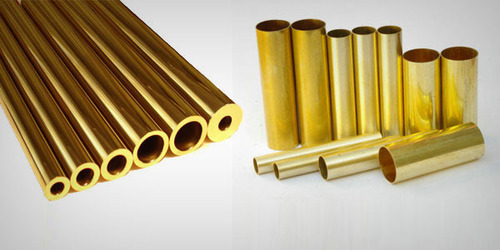 Industrial pipes are used for transporting fluids and solids and are widely used in many industries including construction, energy, and civil applications. Industrial pipes are protected making it well suited for heavy-duty tasks and functions. The industrial pipes are available in different types of metals. Brass tubes and pipes are the most trusted option to be used in various sectors.
Features of Industrial Pipes
Industrial pipes are made of brass with high tensile strength and flexibility. These can be designed and fabricated to any height and strength. These are easy to install, corrosion resistant and maintenance-free. Also, these are structurally stable and reliable.
Features and qualities of Brass tubes & Pipes
There are numerous qualities of brass.
• Sparkling.
• Gold like in appearance.
• Attractive.
These are the qualities of brass tubing. This type of tubing adorns many homes and commercial spaces such as hotels, restaurants, offices, and showrooms around the world. Its widespread use is mainly due to the beauty that it provides any interior space.
Uses and Applications of Brass Tubes
Brass tubes & pipes are cost-effective options for an array of applications and décor works. It is durable and magnificent in looks which marks it a prevalent option for manufacturing furniture, architectural fixtures, and musical instruments. Brass tubing is accessible in various shapes, sizes, and thickness comprising round, spiral and channel types.
Brass needs consistent maintenance to confirm its glow and golden hue. It can be powder coated, oil rubbed or brushed to ensure a beautiful finish.
Commercial applications
In terms of residential and commercial application, the brass tubing is often used as railings for stairs, handrails and foot rails especially in bars. You may have seen or used this yourself in offices and other commercial buildings and you may have even been attracted to its sparkling beauty and golden color. Also, this material is used in making various musical instruments such as the trumpet, tuba and the saxophone.
Why is the brass pipe better than any other alloy?
There are several qualities of brass that Wholesale Brass Tubes Manufacturers utilize. The varieties make brass a preferred choice by people including architects and builders. Compared to copper or zinc, brass has higher malleability and has low melting point making it easy to alter and bend. It is, therefore, more flexible, can resist corrosion and easy to join.
Varieties supplied by Brass Tubes Suppliers Gujarat
This type of tubing is available in various shapes, sizes even in long lengths, thickness and finishes. There's the solid round, round reeded, round spiral, square tubing, flat U channel, and radius backchannel.
Other shapes comprise the oval, D shaped, hexagonal and fluted.
Brass tubing is available in the standard (SAE) and metric sizes. The standard length is 12 inches while the metric size is 9 1/2 inches. Diameter size also differs to provide customers with choices depending on their requirements. However, just to make sure that you get your exact measurement, you can order for customized tubing.
Qualities of top Brass Tubes Suppliers Gujarat
They can provide the following facilities:
• Industry-leading rates
• Facilitate safe packaging
• Superior quality materials
• Products inspected by quality analysts
• Supplies within the assured time and without any inconvenience