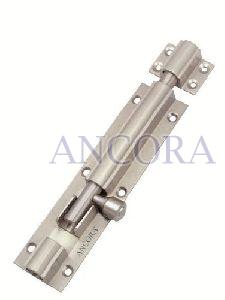 The use of tower bolts is wide, it can keep the doors shut, garages and storerooms pest-free, and gates locked. Various DIY enthusiasts recommend tower bolts in various easy as well as difficult situations due to their sturdy and strong nature. Even its safety can be trusted to resist kids from entering an area containing important livestock. There are a number of reputed SS tower bolt suppliers in Gujarat who offer their range in a wide variety of materials, colors, and styles that can easily suit any premises with its presence.
Tower bolts offer durable and secure services for the uses of both exterior and interior premises. Adding to that, these types of 'locks' are available in both short and long sizes for use in small-sized or heavy-duty gates. If someone wishes to fit tower bolts to the entire set of windows and doors of his house for indoor purposes, it's completely fine! It will be safe for the premises.
Uses of tower bolts: when it can be used?
Tower bolts make an affordable solution. If someone cannot afford expensive locks to secure his place, tower bolts can definitely provide an efficient solution. Even if someone is thinking of adding up an extra bit of security with a mortise lock or padlock, tower bolts make a convenient choice.
Here is a list for what purposes tower bolts can serve
• Can keep pets or other animals locked to keep kids safe from them
• As a garden or compound lock, tower bolts can be securely used to lock bicycles or other precious items.
• Kids can be kept away from the chemical or medicine cabinet
• Safeguard the garage door with the padlock used on it.
• Can prevent a door from getting opened through the wind.
In fact, fitting a tower bolt at house doors is not too difficult for people, and if they do not professional for doing that on time, can do it easily on their own.
How to fit tower bolts?
Remember, perfection is required for better safety!
• Choose the location and mark the exact place for screw holes.
• For single bolts, place it below the handle, as it is the best suitable location. For two bolts, make one at the upper side of the door and the other at the lower section of the door.
• Drill through the screw holes and screw the tower bolt properly.
• Now to place the catch, mark its position on the open door, and mark the screw holes too.
• Test for the accuracy of the bolt, as the catch should hold the bolt firmly otherwise the door will not lock properly.
Tower bolts suppliers in Jamnagar offer a discounted price for their products. so, for bulk orders, you can contact them to save some bulks.