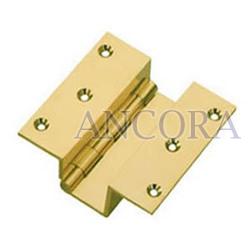 Hinges are an integral part when trying to fix a door making it sturdy. Hinges could be made from different materials using the finest quality material. Hinges are designed in such a way that it will be suitable for various applications and uses. Here you get to know what brass hinges are, their benefits and application and how they help in making your door durable.

What Are Brass Hinges?

Brass has always been an ideal material solution for hinges because of how much low friction it has and malleability. For residential or commercial uses, they are the hinges that are installed the most. From cabinets, door, light-weight flush doors, their applications are innumerable. Brass hinges will always be a great choice for any kind of application that you might have. But keep in mind choosing the right brass hinges suppliers Gujarat is an important task because that is a huge factor while determining quality.

What Are The Benefits Of Brass Hinges?

They Offer An Aesthetic Look
If you are looking for a classic aesthetic look, then brass hinges could be the way to go. If you have Victorian building or wish to give your home an artistic look, brass hinges will always be a favourite. They are also available in different finishes, this makes them highly versatile.

They Are Corrosion Resistant And Also Sturdy

Unlike iron, brass can go on for long because they are corrosion resistant. This makes it highly economically and saves you a run to the store frequent times. Therefore, whether you are using them in the exterior or the interior, they are the best. For homes, where weather factors change with every season, brass hinges where corrosion does not happen are the best option.

They Are Malleable Option
Every door or for any application, the perfect solution would be brass hinges because they are reliable, strong as well as solid. With resilience to breakage, they have the ability to mould into different forms. This makes them the perfect hinge material that allows you flexibility as well as malleability.

Applications Of Brass Hinges

For lightweight applications, brass is suitable because it is a softer extruded metal. Therefore from cabinets, windows, furniture, even lightweight doors, this is accurate. Brass hinges are usually most of the time used for domestic application and offer a classic look. Also, if working within a budget, they are the best solution.

Different Types Of Brass Hinges Available

Butt Hinges

They are the most common type you will come across. They consist of two plates namely the leaves and the knuckles. They are always or most of the time used in pairs or at intervals placed along joints. There are varieties of applications when it comes to butt hinges. From doors, windows, panels, they are suitable for all kinds of respective frames.

Continuous Hinges

They are also known by the name of piano hinges. Though a similar configuration of that of butt hinges, they are longer as well as narrower. Along the entire length, like butt hinges, you will not find multiple of them but a single one. They are usually used for desks, showers, chests and even pianos hence the name.

European Hinges

European hinges could be made of different materials depending on brass hinges suppliers Gujarat you are ordering from. They are usually placed internally and are therefore concealed by the hardware component. They are suitable for door styles which range from corner doors to flush inset.

Barrel Hinges

They are usually made of two barrel-shaped components. Usually, these two components are attached by a pivot. You can use these types of hinges for various purposes including for concealments in different types of furniture and cabinets.

Therefore, this is all you have to know about brass hinges and why they are so much favoured by professionals and house owners. Not only are the budget-friendly, but they can also go on for long efficiently when compared to others.