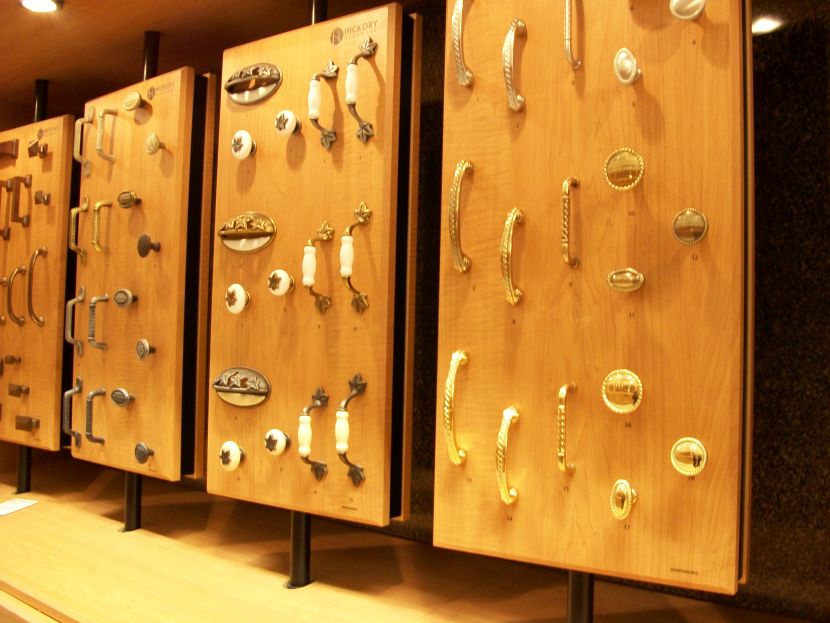 There are many Cabinet handles manufacturers who make modern and trendy handles of cabinets, of kitchen or bathroom interior with vogue decor. There are so many people, each year, who spend so much money on remodelling their kitchen and washrooms because it does not look up to the mark.

By the time you will select all the major appliances, new countertops, colour contrasting elements, you will forget about the cabinet handles. Many don't it even consider it an important part of the interior décor. But that does not make the cabinet handles any less important. Not at all! There are various types of interior designs available for kitchens, washrooms, drawing rooms etc. Each kind of interior demands its particular type of cabinet handle.

Choosing the right cabinet handles manufacturers is also pretty important as they will provide you with your products. Cabinet handles usually rest at the bottom of the remodelling list. But it's the cabinets which either help in making or breaking the look of your kitchen.

Therefore, you must pick the right colour and the right style of cabinet handles which matches with the rest of your kitchen design.
There are many such designers, who feel cabinet handles are the jewellery of the kitchen. They believe it's the cabinet handle which makes the modular kitchen look so appealing. For that, you must select such a cabinet handle which goes perfectly with the rest of your kitchen décor.

If you do not have much of an idea about cabinet handles then there are a few popular cabinets handle ideas.

Some of the types of cabinet handles which are most commonly preferred by designers-
Pull-out Cabinet handles-
• The pull-out cabinet handles can be as ornate and straightforward as you'd want them to be. They do exactly what they announce on the tin.


• These pull out handles can be like the basic stainless steel ones. Or you can also choose a little more decorative one's like the ornate ones would go fine with bulky kitchen designs whereas the sleek one's go perfectly with modern kitchens.

• These cabinet handles are so easy to use that they almost fit in with every cabinet style. They are versatile and more or less fits in.

• Although, if you have a vintage style kitchen décor then they might not be such a great pick. Also, their positioning highly matters. Any ill-placed cabinet handles may limit their practicality.

Cabinet knobs-

• Where cabinet handles might seem a little too much, their cabinet knobs work perfectly. They are small and round cabinet handles which are mostly fixed on the cabinet door's opening edge.

• These round cabinet handles have an old school vibe to it. Knobs are perfect for vintage decors. There are many modern-day knobs which come in wood, metal, ceramic and many other materials. Which makes them a pretty versatile option.

• Another good point is, you won't have to drill too many holes, just one is enough. As the knobs have just one single point for attachment so drilling just one hole would do.

• But it is also a downside of these round cabinet handles. As they have just one point of attachment so if by chance that becomes loose then the knob will just fall off right away.

• These small round vintage cabinet handles, called knobs are a little less practical than the pull out handles. Because of its small surface area, especially when somebody will be opening any of the cabinet doors in haste.

Stainless steel Cabinet handles-

• The most common and basic type of cabinet handles are the stainless steel handles. These are extremely low maintenance, doesn't need any extra caring. It's water-resistant and pretty easy to clean. Just wipe down, in case there's any spill.

• The cabinet handles manufacturers also make the best quality stainless steel handles. These are not so fancy and do not go with premium styles decors. But they are long-lasting and goes around with the simple kitchen decors.

• They are only good for their one particular job, which is to open and shut cabinets. Other than this they are nothing fancy.

Cabinet handles with pulls-

• If you are searching for something royal then go for brass or bronze pulls with exposed screws which looks unique and fancy.

• This kind of cabinet handles give your kitchen an industrial or even a commercial look.

• Another modern looking stylish cabinet handles are tubular bar pull. It gives your kitchen a modern dramatic look.

• many designers select this tubular bar pull for giving your kitchen a sleek look. They can be both long and short according to your needs.

• These cabinet handles go just find with Shaker-style cabinet doors or even the flat panel cabinet doors.

These were some of the most impressive and commonly used cabinet handles.

Go for the cabinet handles manufacturers who make good quality and long-lasting products.