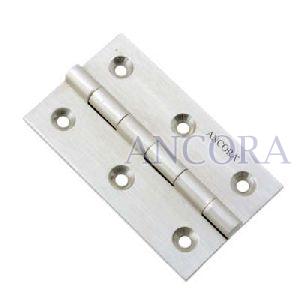 The hinge is a machine tool to connect two parts and allow angular movement over a fixed position. It is known as journal bearing with shaft rotation. It allows one type of rotation either rolling, pitching, or yawning.
We use hinges in enclosures, doors, furniture, containers, construction, electronics, and jewellery. For each application, you will find suitable hinges. If you want further customisation, it is also possible from a renowned manufacturer of Stainless Steel Hinges in Gujarat. You will get these tools at a very low cost.
Hinge Types:
There are many hinges as per the present applications. For indoor usage as kitchen cabinets and furniture, choose concealed or barrel hinges. For wooden gates, sheds, or main doors, strap & butterfly hinges are available with world-class styles. For industrial applications, geared and friction hinges are the best.
If these above criteria do not meet any requirements, it is wise to go with custom Stainless Steel Hinges. There are some suitable designs of hinges in the market.
• Ball-bearing Hinge: Instead of using the normal manual hinge, the ball bearing is the smart choice for reducing extra friction. It does that by reducing the space of contacts between surfaces and providing significant support to axial and radial loads.
• Block Hinge: It is popular for its heavy-duty applications connected through bolting or welding. It looks like a barrel of steel with a square and thick profile attached by a pin. It reduces the generated corrosion, unlike other tools.
• Barrel or Bullet Hinge: It consists of a couple of barrels. It is preferred for welded joints rather than leaf attachments between the barrels. There is a huge advantage of installation in narrow frames with strong support.
• Butt Hinge: This hinge is commonly seen indoor fitting applications. It looks like a leaf pair joined with knuckles and attached by pins. One leaf remains stationary while the other is the moving object. It may be half or full mortise. The full mortise is mainly used for commercial doors.
• Butterfly Hinge: These are the same as butt hinge with some advanced design. It is great to attach these hinges to indoor furniture to add some aesthetic appeal to it. Strength is not concerned over flexibility here.
• Case Hinge: These are delicate designs for laboratory tools. You may observe these things in briefcases, suitcases, and others.
• Concealed Hinges: It has the same functionality as barrel hinges. It has two parts i.e., the hinge arm and cup. It is also named as Euro hinges having some design features and complex construction. It shows a continuous appearance and cannot be noticed in an item of furniture as it gets mixed with the design. It has adjustable designs to cater to the installation and manufacturing of any wooden machine. You may see some self-adjustments in it with some other corrosion-resistant scenarios.
• Hinge with Constant Torque: It shows some resistance as it is not flexible to open/close the door. It is specified by torque characteristics and service life.
You may also see other types of hinges as well as per many other hardcore applications. For having more knowledge, kindly check with the manufacturer of the hinges in Maharashtra