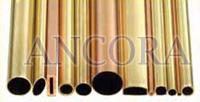 If you are interested in buying good-quality brass tubes and pipes, you can contact wholesalers and suppliers for the buyers. Before placing your order, you should make sure about the right price and delivery charges.
Industrial pipes are used for moving solids and fluids and are extensively used in numerous industries including construction, energy, and civil applications. Industrial pipes are flanged, insulated, and subversive rated turning them perfect for heavy-duty jobs.
Features of Brass Pipes for Industries :-
Industrial pipes are made of steel with high tensile strength and flexibility. They are planned as well as fabricated to any height and strength. Easy to fix up, they are resistant to corrosion. There is no need for the sort of maintenance and are structurally trustworthy and steady.
Uses and Applications of Brass Tubes :-
Brass tubes are made of alloys of copper and zinc. They are an affordable choice for various applications and decoration jobs. The special look turns it a good choice for making musical instruments, furniture, and architectural fixtures. Brass tubing is available in different sizes, shapes, and thicknesses. You can choose round, spiral, and channel kinds. They need proper maintenance from time to time to make sure they glow and golden color. It can be coated with powder, brushed, or even oil-rubbed to make sure for an attractive finish.
If you wish to place bulk orders, you can contact Wholesale Brass Tubes & Pipes provides the products at the best price. Let's discuss the top ways to use the Brass Tubes and Pipes:
Musical Instruments :-
If you are searching for brass these days, the best place you will discover it is in the musical instruments. You might find the term 'brass instruments'. It is used to instruments that include the trombone, tuba, euphonium, trumpet, cornet, French horn, saxophone, tenor horn, and harmonica, which are all played using different lips pressure on a mouthpiece. The term can also demote to instruments that are not blown, which includes snare drum, but that are prepared of brass.
Plumbing :-
Brass is called a copper alloy and a little zinc is considered resistant to corrosion, turning it perfect for pipes plumbing. Additional metals which include steel are called to rust when they come into water contact, turning the brass a good choice for the applications. The metal is even quite simple to thread and bend, making it much quicker to fix brass pipes. However, the metal is found for different sorts of plumbing, it is essential for hot water distribution.
If you're adding into the present plumbing, particularly for hot water, you should confirm that it's one of the domestic lines and not part of the heating method - often an easy error to create. You can trace the lines cautiously back so you are sure where they come from. Moreover, you can shut down the main supply of water, close off any middle valves that will decrease the amount of water that will drainpipe from a cut line.
If you are looking for Wholesale Brass Tubes & Pipes in Gujrat, you can search out easily online. A small hunt over the internet will help you to find the best quality products at the best price. Never go for a cheap price, as quality products are always expensive.